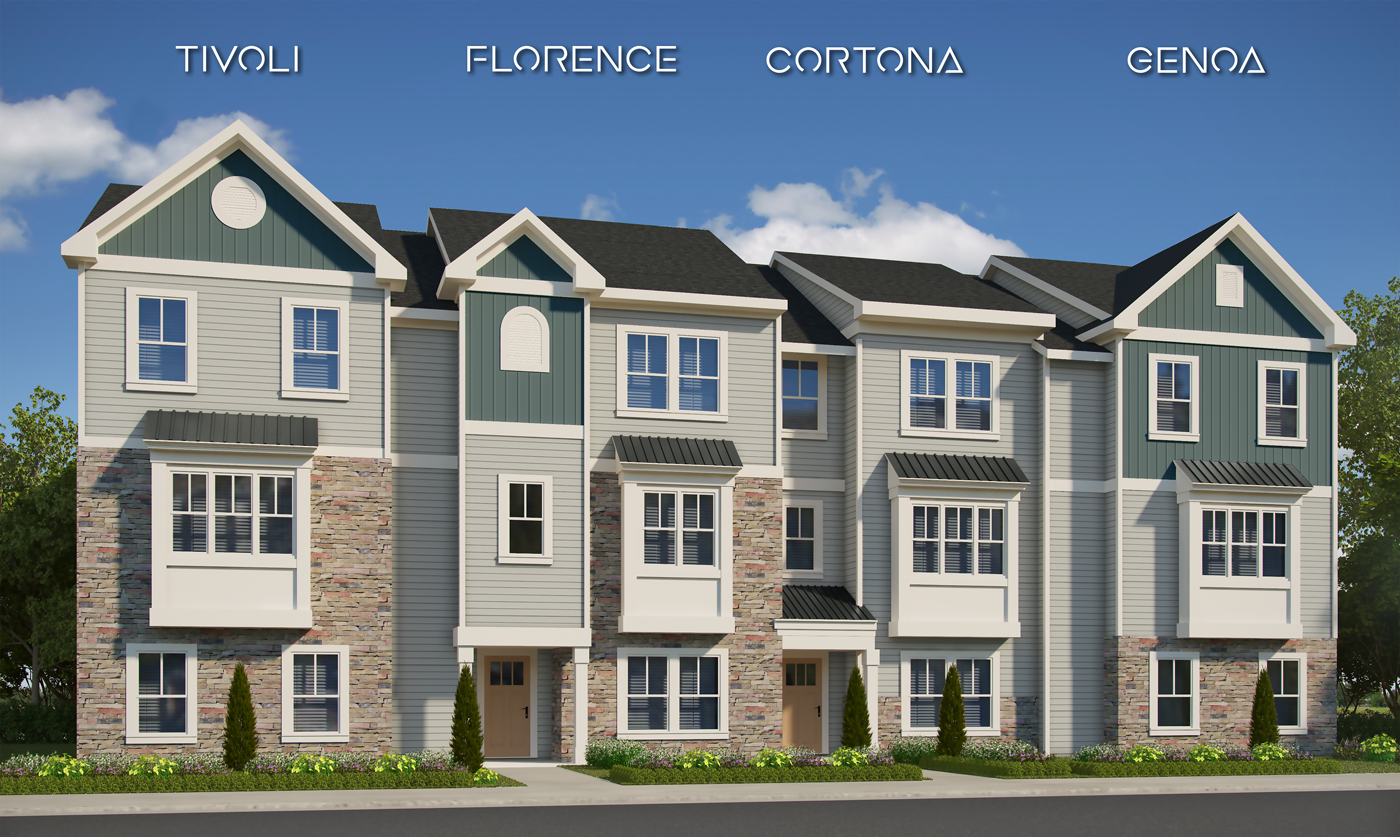 Welcome to Array at Bennett's Creek Quarter!
Located near Bennett Creek's western banks in Northern Suffolk, ARRAY is a relaxing and trendy new townhome community designed around today's busy lifestyles. Tucked away along peaceful, tree-lined creek banks, this community will feature numerous amenities such as a centrally-located Community Center with a pool, fully equipped fitness center, gathering areas for private functions, full kitchen and a large patio with a fire pit and grill. Adjacent to the pool area, the community will include a full playground and open area for family fun. A fenced-in dog park for your furry family members to play in adds to ARRAY's unique community experience. Each phase will include open areas with nature walks which take full advantage of the area's natural beauty.
Grocery stores and retail shoppes are located less than a mile from the community and numerous nearby casual and trendy restaurants await you. ARRAY is centrally located within a short driving distance from major corporate, military and industrial hubs and minutes from major thoroughfares such as Route 17 (Bridge Road), Interstate 664, the Monitor Merrimac Bridge Tunnel and the James River Bridge.
ARRAY is a community designed with YOU in mind and we can't wait for you to call this home!
Home Type:
Tri-Level Townhomes
Starting Base Price:
Special Pre-Sale Pricing:
Call Our Sales Agent for Pre-Grand Opening Specials
Sq. Ft. Range:
1,702 to 2,080
Community Location:
4307 Abercorn Drive, Suffolk, VA 23435
Sales Consultant:
Tara Strauser CSP,ABR,ASP REALTOR®
Amy Thomas, REALTOR®
757-718-6322
Rose & Womble Realty

Sales Office:
TBA
Sales Model:
Coming Summer 2021
SIGN UP TO BECOME A VIP!
Be the first to know about any updates and information ahead of it being posted on our website such as events and openings!
By joining our exclusive VIP list, you agree to receive community updates via email and/or text. Messages and data rates may apply. You may opt out at any time from the text or email we send.