We at Napolitano Homes are extremely proud of every new home that we build. Not only do we deliver dream homes that have incredible curb appeal, the latest and greatest technologies, and flexible floorplans that appeal to every walk of life, but we also focus heavily on building practices that you can't see or don't necessarily notice, but you will appreciate as the years pass in your new home.
Many builders in the Hampton Roads area build "prescriptively," meaning they only build to the minimum code requirements. Napolitano Homes, on the other hand, requires each and every home to be approved and sealed by a structural engineer. This initiative to go above and beyond standard code practices results in a better home that will remain structurally sound for years to come. It also allows for many unique design features that can only be accomplished if the floorplan is structurally engineered. Let's view what some of these benefits are, what standard features it allows us to have, and how they compare to other builders.
16" On Center Framing For All Walls Throughout House.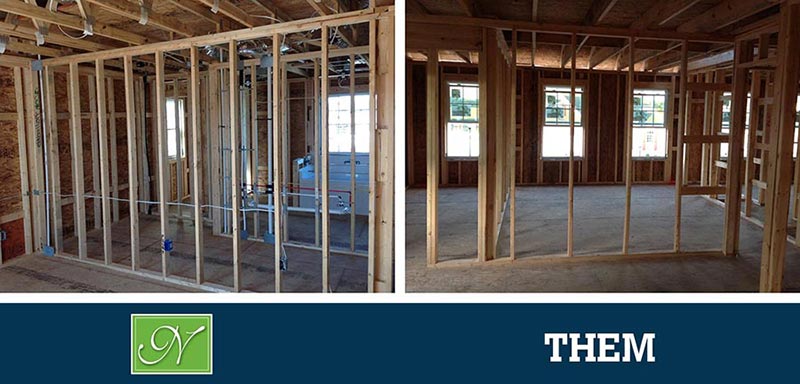 Builders will often build with 24″ on center framing for non-load bearing walls on the interior of the home as an effort to reduce costs. This is a practice that can result in loss of stability over time, and it is also frustrating when looking for studs to hang shelves, art, cabinets, and more as you live in your new home. Napolitano Homes builds ALL interior walls with studs at 16″ increments.
Minimum 2x6 Door Headers For All Interior Doors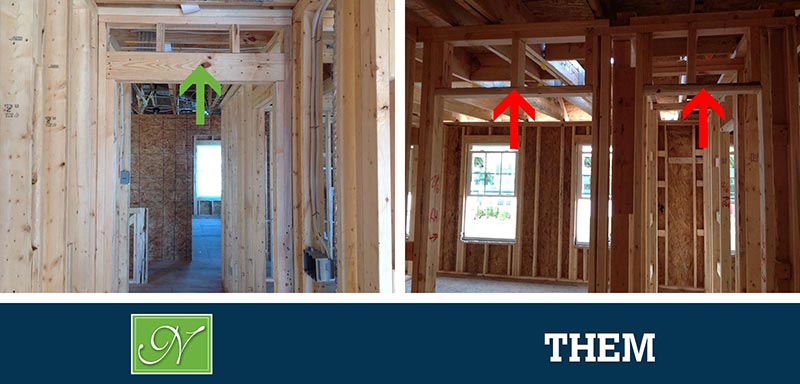 With a more substantial and sturdy 2×6 header securing the frame, doors will still be flush and shut properly even as the house moves and settles over time. Anything less is more likely to move out of place which results in doors that are out of alignment.
Engineered I-Joist Flooring System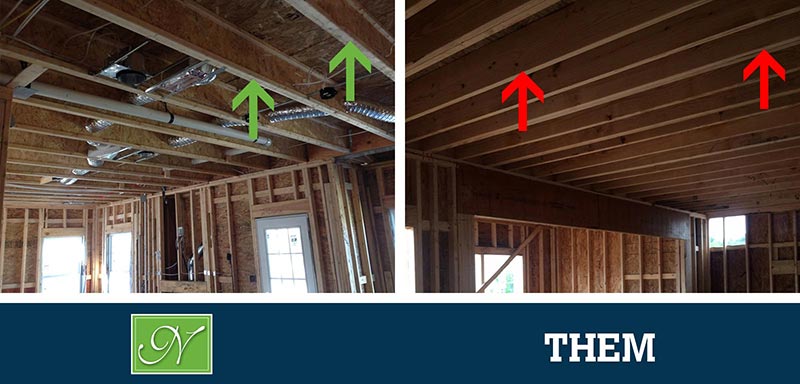 An I-Joist flooring system is an engineered product, ensuring a true and level surface throughout the entire member. Other builders use 2×10 flooring systems which are not engineered and have crowns in the middle of the joist. This can cause irregularities in the levelness of the flooring, creaks, and even damage to tile as the floors move.
Furthermore, I-Joist flooring systems allow HVAC and plumbing to run through members to ensure no dropped soffits, which you often see with other builders. Dropped soffits reduce ceiling height in rooms and detract from clean architectural lines.
Minimum 2x8 Window Header For All Windows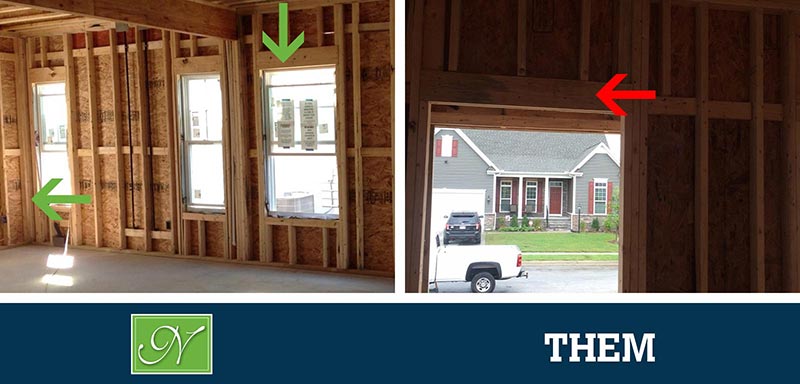 Using 2×8 lumber for window headers rather than 2x6s like other builders adds stability to the window frame, and also gives you a wider target for anchoring blinds and curtains!
In addition to headers, our engineered plans allow for windows to be located at the corner of rooms, which results in more wall space for furniture, more windows in general, and thus a brighter and more spacious feel to our rooms.
Pull Down Stairs
We spend an extraordinary amount of time studying the details of every floorplan to make sure they have several clever and efficient areas for storage, as well as pull down stairs for attic access and even MORE storage. Try to find the same amount of storage space with other builders, we dare you to compare!